By: Amanda Rodriguez

In recent years, State Street in downtown Santa Barbara has been suffering because of increasing store vacancies and lack of customers. The local government has aimed to fight for the revitalization with new strategies.
Santa Barbara, May 28 – In the 1990s, State Street in Santa Barbara was a hotbed of activity. With 200 storefronts full of chic clothing stores, diverse restaurants, and weekly entertainment, locals and visitors alike crammed the street evenings and weekends.
As online shopping continues to gain more popularity and rents continue to rise, the popular downtown State Street area is suffering. "It currently has about 30 empty storefronts; that number has steadily increased since 2015," said Tony Ruggieri, Santa Barbara City TV Production Supervisor. State Street has been drawing fewer tourists and customers.
Click on the information tabs to learn more about State Street's retail status over the past 10 years.
"State Street is known to be the heart of our downtown area, so keeping it active and alive is important because its so embedded in our history and culture," said Nina Johnson, Santa Barbara Senior Assistant to the City Administrator.
Johnson is a powerhouse in the city government because she is a high-ranking administrator at City Hall and a de facto social engineer, she actively works on projects that are aimed to help re-electrify State Street.
Along with Johnson, local city government officials and business influencers have come together to address the problems preventing State Street from thriving. "I remember when I would come down here about 10 years ago, it was like I couldn't move through the streets because it was so filled. Times have really changed," said Santa Barbara native, Gustavo Bello.
Without State Street, Santa Barbara loses a critical space that has served as the social, economic, and cultural center of the city and southern coast for over 150 years.
Bello went on to explain that he believes it is because of stores going out of business, the popularity of online shopping, and the impact of the homeless on the street that has negatively affected the energy that State Street once brought to the city.
Because the area is facing harsh realities, community leaders have come up with proposed solutions to help revive the central hub of Santa Barbara. "We are drawing up new ways to bring in business and increase tourism and activities for shoppers and locals," described Johnson.
New events and collaborations with local organizations, like Experiment Weekend, a reconstruction of Paseo Nuevo, and ongoing strategies for further community developments have been set to continue the fight for State Street.
Experiment Weekend
The first demo experiment that the local government put into action, called "Experiment Weekend," took place April 19th and April 20th. On Friday, April 19th, the State Street underpass was closed to traffic so the public could access a free light installation, created in collaboration with the Arts Fund.
Santa Barbara's Senior Assistant to the City Administrator, Nina Johnson said, "We're trying some new things to revitalize the downtown area, we're trying the most frequently suggested ideas that we've heard from the community. We're taking some risks but really our risk is limited because we're only doing this for one day."
Along with collaborating with the Arts Fund, the city also made an agreement with the downtown shuttle for the evening that provided free transportation to all who wanted to attend the art viewing. The event drew in a large crowd that was actively engaging with local artists and art for the evening.
The role of the Arts Fund in Santa Barbara has helped to cultivate and support the art community. The organization has worked previously with Santa Barbara City to bring light, color, and vibrancy to the downtown area.
"I'm so grateful for this opportunity and have always had a great time working with the city. It's really an extension of our public arts program and we work really hard and closely with the city to expedite public art projects, as seen all around the Funk Zone," exclaimed Torrie Cutbirth, Executive Director of the Arts Fund.
Lea Barbato Gaydos is a professor from the Department of Holistic Nursing Aesthetics at the University of Colorado who conducted studies about the impact of art. She found that it is important to incorporate art in a thriving community because it evokes the ability to sense an emotional response with their environment.
Similarly, scholar Lucy Bradley-Springer, describes that art makes people think. Whether that's only for a moment or while pondering at street art on the way to work, it allows your brain to think creatively and have a positive feeling associated with where you are.
On Saturday, the 400 and 500 blocks of State Street were closed for an expanded outdoor dining for the public that included live music, outdoor games and activities. There was an overwhelming increase in pedestrians that allowed State Street to regain energy and activity that evening.
"Something like this is what we need: a third space where people can come, you see your friends and hangout, you meet new people, like we just met these guys for the first time," said Hugh Margerum, Santa Barbara restaurant and winery owner, gesturing to the opposing team of teenagers playing ping pong.

Frode Flemsæter, Gunhild Brown and Katrina Brown investigated how the use of outdoor activities is important for social needs and engagement within a community. The social scholars found that outdoor citizenship relies on the coproduction of mobility, landscape and morality, especially a need within the urban upper class to use nature as an arena for recreation to increase socialization.
Panting from the exciting game of Hawaiian ping pong taking place, Santa Barbara resident, Karen Morango described how happy she was to see fewer people on their cell phones. Morango sighed with relief when she described how people were being more active in conversation and in the moment, which she also noted as being a rarity these days.
Local businesses reported an increase in sales from Experiment Weekend and there was a sense of unity and energy that helped pave the way for State Street to be successful once again.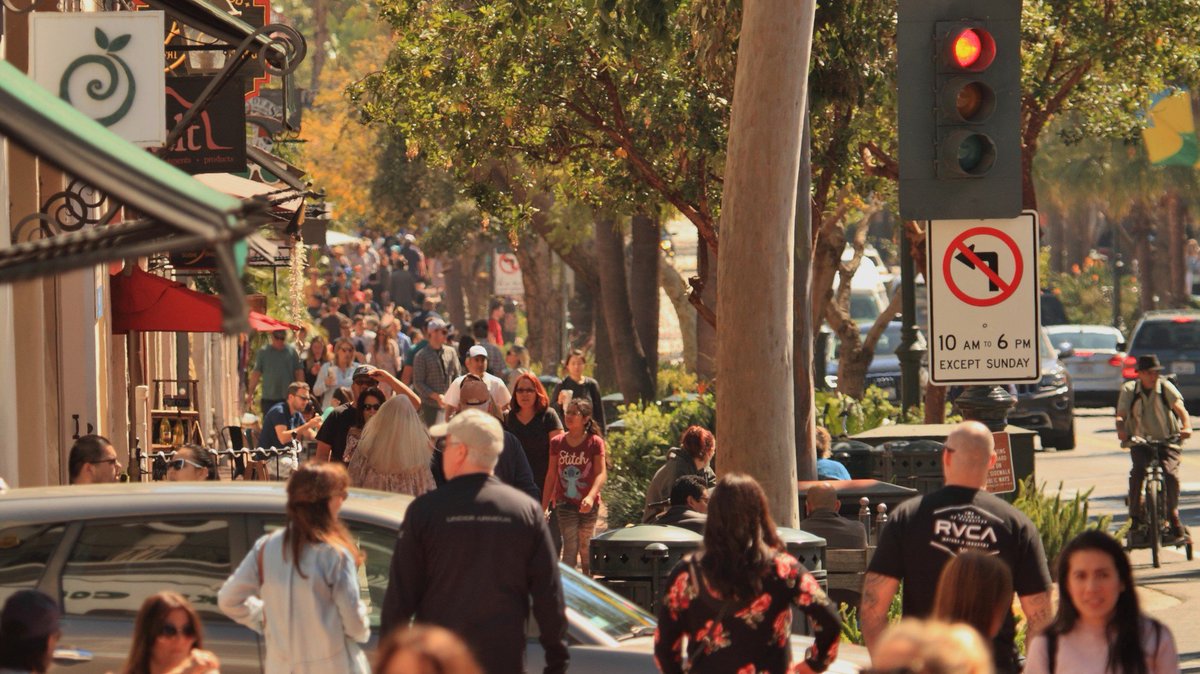 Paseo Nuevo Reconstruction
Paseo Nuevo, an outdoor shopping center, was built in the early 1990s and for 25 years was the center of Santa Barbara activity. But because of online shopping, the liveliness has decreased.
The once popular shopping center on State Street has pushed through permits to begin upgrades that are meant to ignite more activity by adding more attractions and experiences that are relevant to today's retail environment.
"Paseo Nuevo brings in almost $100 million in gross sales, so improving it for retail purposes will bring in more revenue for the city, which we really need to pick up because of State Street's current condition," said Carrie Kelley, the Executive Director of Downtown Santa Barbara.
Paseo Nuevo owners said that renovations to the outdoor mall include a bocce ball court, communal seating, new LED lighting throughout the mall and an interactive water fountain. The focus of the renovation is to bring in more retailers and increase the overall appeal to consumers.
In a recent study, "The Effects of Mall Renovation on Shopping Values, Satisfaction and Spending Behaviour," scholars found that there is a positive effect of renovations on shoppers' perception of the mall atmospheres and this contributes to shoppers' satisfaction.
With new vacancies in the Macy's and the Saks OFF 5th stores, there has been a greater need and push for renovations within areas that maintain a steady population, with the expectation that adding to the retail experience will result in greater benefits and economic relief and the city .
Additions coming from this renovation could bring in a larger tourist population. "Adding events and attractions exposes a lot of people to Santa Barbara because Santa Barbara is kinda isolated and far away from Los Angeles, so for us coming to your community and seeing people share experiences, it just looks great and makes me want to come back," said Los Angeles resident, Martin Brayson.
A study titled, "Importance of Tourism Paradox, Tourism Equinox and Tourism Detox for Urban Environments,"has found that with an increased number of tourist arrivals, there is a perceived appearance of an increased desirability of the city.
Further Community Developments
As city officials continue to work on creating more events, like Experiment Weekend, and pave a way for renovations to take place smoothly, Santa Barbara City government has vocalized their commitment to continue pursuing projects that will help revitalize the city.
Santa Barbara City TV Production Supervisor, Tony Ruggieri said, "Time is what's the most important thing right now because we haven't seen this many vacancies downtown ever, but the city has some things in the works to help the situation."
Community officials are slightly concerned that the time to create events will hinder the growth to keep State Street a popular attraction.
"We planned Experiment Weekend for several months, starting last summer and the underpass takeover for the art installation was worked on for almost 2 years," said Johnson.
Local State Street pop-up owner Alec Mendoza said, "I know projects take a while and I know there are plans and actions taking place because small businesses are getting recognized, but State Street needs some immediate attention if we want to get back to where it used to be."
Mendoza is the owner of a pop-up shop that sells handcrafted art from material gathered in Santa Barbara and was able to have a grand opening for his store during Experiment Weekend. Luckily, this brought him a lot of business on his first weekend on State Street.
Future developments could also take into consideration the layout and attraction brought by the Funk Zone, which has gained popularity from locals, tourists, and a steady flow of UCSB students. "I love going to the Funk Zone because you can easily hop around from bar to bar and they have cool games to play while hanging out with friends," said UCSB senior, Shavonne Whiffin.
As the Senior Assistant to the City Administrator, Johnson reassured that there will be further action for the fight for State Street. In the interview, she clarified that once the City can properly analyze the responses conducted from surveys handed out during Experiment Weekend and eventually the effect of the reconstruction of Paseo Nuevo on retail flow, there will be more experiential things for people to do to increase social interest in the downtown area.
Although State Street does not have the same level of activity as it did back in the 1990s, it is with reassurance from city officials that State Street will once find the verve it had back in its heyday.
Word Count: 1777
Amanda Rodriguez is a senior at the University of California, Santa Barbara. She is majoring in Sociology, with a minor in Professional Writing and a certificate in Journalism.
References
Arikan Irfan, Ünsever Ilker, and Halioui Salma. "Importance of Tourism Paradox, Tourism
Bello, Gustavo. Interview. May 29, 2019.
Bradley-Springer, Lucy. "The Importance of Art." Journal of the Association of Nurses in AIDS Care 19.3 (2008): 167-68. Web.
Brayson, Martin. Interview April 19, 2019.
Chebat, Michon, Haj-Salem, and Oliveira. "The Effects of Mall Renovation on Shopping Values,
Equinox and Tourism Detox for Urban Environments." Acta Economica Et Turistica 2.2 (2016): 221-29. Web.
Satisfaction and Spending Behaviour." Journal of Retailing and Consumer Services 21.4 (2014): 610-18. Web.
Cuttbirth, Torrie. Interview. April 19, 2019.
Flemsæter, Setten, and Brown. "Morality, Mobility and Citizenship: Legitimising Mobile
Subjectivities in a Contested Outdoors." Geoforum 64.C (2015): 342-50. Web.
Gaydos, H. Lea Barbato. "Editorial: Aesthetics, Art, and Holistic Nursing." Journal of Holistic
Nursing, vol. 23, no. 4, Dec. 2005, pp. 371–374, doi:10.1177/0898010105280886.
Johnson, Nina. Interview. April 19, 2019.
Kelley, Carrie. Interview. May 16, 2019.
Mendoza, Alec. Interview. April 20, 2019.
"Paseo Nuevo Kicking off Renovation Project." Paseo Nuevo,
paseonuevoshopping.com/paseo-nuevo-kicking-off-renovation-project/.
"Reinventing State Street: Developing a Plan for the Future." World Business Academy, 20 July
Ruggieri, Tony. Interview. May 17, 2019
2018, worldbusiness.org/reinventing-state-street/.
Whiffin, Shavonne. Interview. May 17, 2019.